Silver Prices Riding Roller Coaster for Decades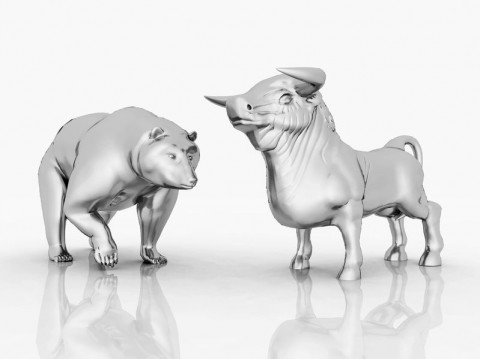 With silver prices fluctuating greatly up and down over the past few years, it can be hard to remember for some investors, especially those who are relatively new to the market, that we've "been here before" and "done that." Many silver pundits want buyers to believe that now is the time to buy silver, with some claiming that we may never see prices this low again. The truth is, nobody, but nobody, really knows what silver is going to cost five, 10, or 15 years from now – let alone tomorrow, next week, next month, or next year. There is no game, system, or scheme singularly controlling silver prices. Yes, there are factors, such as inflation and oil prices, but even still, silver prices will sometimes trend the opposite direction of what bullion pricing "logic" may dictate.
To better illustrate just how wild silver bullion prices have been over the years, I'd like to shed a little light on what the price of silver has been since 1950. Bearing in mind, of course, inflation – silver prices of $1.29 in the early 1960s might sound quaintly affordable to people today, but what, exactly, was the American minimum wage per hour in, say 1961? Try $1.15.
In 1950, silver cost about 75 cents per ounce, a price that spiked to nearly 90 cents the following year and hovered in the 85-cent to 90-cent range for the rest of the 1950s. Prices rose as the booming post-World War II economy required silver for industrial production. In the 1960s, silver continued rising, hitting $1.29 in 1963. This caused a run on silver bullion, and many people began hoarding wartime nickels and 90-percent silver coinage from circulation, causing a national coin shortage. At $1.38, it would have become more profitable to melt the 90 percent silver coins than to spend them, and thus the United States Treasury removed the 90 percent silver content from circulating coins and replaced it with a copper-nickel clad composition in the dime and quarter in 1965 and half dollar in 1971.
By 1968, silver surpassed the $2 mark, and it continued rising throughout the first several years of the 1970s, hitting nearly $5 an ounce in 1974 – that was during the energy crisis, when the United States suffered a crippling oil shortage. A plethora of socio-political events on both the American domestic and worldwide scene created a panic in the markets in the late 1970s and early 1980s.
The Soviet invasion of Afghanistan, the Iran hostage crisis, the Iraq-Iran War, and general economic malaise in the United States and many other nations during that period helped persuade investors to buy silver. Silver climbed to $15 an ounce in September 1979; meanwhile, Nelson Bunker Hunt and William Herbert Hunt, two billionaire brothers, attempted to corner the silver market in late 1979 and early 1980 by purchasing some 100 million troy ounces of silver. That influenced silver prices to increase to nearly $50 an ounce in January 1980, but the bullion value on the white metal quickly fell to below $11 an ounce by March of 1980. Continued volatility in the international economy and world politics kept silver prices bouncing between $10 and $25 throughout the remainder of 1980, with prices continuing above $10 an ounce throughout much of 1981. As the early 1980s progressed, silver would settle to below $7 an ounce and remain there, with few short exceptions through the early 2000s.
Increasing investment in silver as well as growth in industrial use of the metal put upward price pressure on the bullion market in the mid 2000s. Between 2005 and 2010, silver prices increased from about $8 an ounce to $20. Silver investment strengthened as the second decade of the 21st century was underway. The metal hit a record annual average price in 2011, when silver bullion posted a remarkable run to as high as $50 an ounce in April of that year; the average price in 2011 was $35.12. The situation in 2012 was similarly buoyant, with the average annual price notching a second-highest all-time price of $31.15 per ounce. Prices steadily settled under $20 per ounce as 2014 marched on and generally stayed below $18 an ounce in 2015, at several points dipping below $15 and even dropping under $14 on at least one occasion toward the end of that year.
As 2016 moves forward, silver bullion prices appear primed for a run-up, as gold bullion values have increased from a recent low of $1,055 in December of 2015 to as high as $1,250 just two months later. Finicky world markets, the volatile oil market, a contentious United States presidential election season, and many other factors will continue to toy with gold and silver bullion prices. The question is, how high – or how low – could silver prices go as 2016 continues?

Stay tuned…
About the author
Joshua McMorrow-Hernandez is a freelance writer and author who has contributed hundreds of online articles and blog posts, as well as published Images of America, Tampa's Carrollwood (Arcadia Publishing, 2013). Joshua is interested in a wide array of topics, and since 1992 has been heavily involved in numismatics, a topic about which he loves to research and write. His main area of focus is 19th and 20th century United States coins, but he also enjoys Canadian coins.