Coin Values Library: Your Resource for Everything About Numismatics & Investing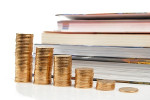 Welcome to our library, where you can learn about coin values, investing, rare U.S. coins, numismatic 101 and trivia, and much more. Whether you are a novice coin collector, a budding investor, a seasoned numismatist, or professional coin bullion guru, there is always something new you can learn about the coin market, and that's what we're here for. We have a growing compendium of information about the coin industry to provide you with terrific insight on coin collecting and coin investing. It is here that you will find new articles about coin values, coin trends, bullion coin releases, and just everything else you need to know to get the most enjoyment out of your hobby and best return on your investments.
There was a famous numismatist who once said, "buy the book before the coin." Of course, we still advocate reading great books about the coin industry, but today we can add another tangent to that classic phrase, and that is, "read the book and go online before you buy the coin." In other words, be sure to check out our online resources so you know all you need to know about buying coins, investing in bullion, and knowing the latest coin values. There's really no such thing as being over-informed about coins these days. With coin values changing all the time and more new releases from the United States Mint than any time over the course of its long history, you need to know the ins and outs of the coin industry to succeed at investing and become a true expert in your area of numismatics.
We hope you will enjoy the many coin resources we have here in our library. Along with these helpful coin guides, don't forget to check out our coin values, bullion calculators, blog and the multitude of other handy coin resources on our site.
19 results - showing 1 - 19
19 results - showing 1 - 19
Latest Blog Posts