Should You Buy Junk Silver Coins When Silver Prices Drop?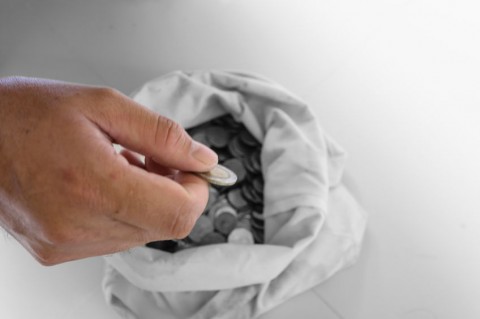 Is it wise to buy junk silver coins when silver bullion prices tumble? Many bullion investors want know, especially when the metals market behaves as it has recently. Silver prices go up, then they go down. When silver prices go down, bullion investors do one of two things:
Some silver investors panic about losing money and sell off some of all of their reserves to get out of the market before it's too late.

Other silver investors snap up more silver for their portfolio while prices are lower and they can acquire more silver coins for the same proverbial dollar.

While only you can decide whether it's right for you to buy or sell silver coins when the market prices drop, here are some thoughts on the benefits of buying silver coins when bullion prices decline:
#1 – You Get More Silver Coins For The Same Money

Is this an obvious point? Perhaps. But a point that's easily overstated? Hardly. This point, in fact, is something many antsy silver investors sometimes forget when all they see are downward-trending silver pries.

Consider this: if silver prices drop 1 percent, then you can potentially buy 1 more silver coin for every 100 of the same type. That's a big deal for major silver investors and bullion distributors who regularly buy thousands of silver coins at a time. Essentially, for every 100 silver Mercury dimes you buy, you could get 101 for the same price if bullion prices drop from $20 to $19.80 per ounce – a drop of only 20 cents. Buying 5,000 Mercury dimes with silver at $20 per ounce? Then you could get 5,050 for the same dollars-and-cents investment – that's essentially a "free" roll of 50 Mercury dimes for every 5,000 Mercury dimes.

Sure, it's not really a free roll of Mercury dimes – you're paying for it. But in that scenario you're getting one more roll of silver dimes than you would've purchased for the same price had silver prices not dropped. That could equate to a huge gain of possibly hundreds of dollars if silver prices jump from, say, $20 to about $50 per ounce, as they did in 1980 and 2011. As there are 3.617 ounces of silver in 50 Mercury dimes, that equates to a value more than $175 of additional return on the profit per "free" roll of silver again reaches $50 per ounce.

#2 – You Could Find More Deals When Silver Prices Are Down

When prices decrease, there are many buyers who get extra skittish about buying silver (see the scenario above). Sometimes, major bullion distributors will offer special discounts or even free or flat-rate shipping to sweeten the deal for leery silver investors.

Even if shipping discounts are the only money-saving deals you can find when you're shopping around for the best silver coin prices, don't scoff at saving "just" a few bucks on the cost of paying for your order. Sure, there is no such thing as free silver, but free shipping on your bullion coin order can be the next best thing. The $5 or $10 you save on shipping may help you purchase an extra silver quarter or half dollar you didn't allocate in your budget when planning to place an order and pay for having it shipped, too.

#3 – Budget Coin Collectors Can Fill More Album Holes

Silver bullion investors aren't the only people who can benefit from lower silver prices. So, too, can numismatically minded coin collectors who aren't necessarily stacking silver but, rather, collecting silver coins by date and mintmark.

The so-called budget coin collector – the individual who is working with a relatively small amount of discretionary income – stands to enjoy more affordable collecting opportunities when silver prices go down. There are countless coin collectors who really want to fill coin folders with silver Roosevelt dimes, Washington quarters, Franklin half dollars, and Kennedy half dollars but simply can't afford to when bullion prices are high. When silver prices fall, a variety of classic United States coins suddenly become financially obtainable for so many collectors.
Should you buy or sell silver coins when bullion prices fall? It's up to you. But as I've explained here, there are clearly many good reasons to snap up silver coins when prices fall.

About the author
Joshua McMorrow-Hernandez is a freelance writer and author who has contributed hundreds of online articles and blog posts, as well as published Images of America, Tampa's Carrollwood (Arcadia Publishing, 2013). Joshua is interested in a wide array of topics, and since 1992 has been heavily involved in numismatics, a topic about which he loves to research and write. His main area of focus is 19th and 20th century United States coins, but he also enjoys Canadian coins.