Rare Coin Collection Scores More Than $100 Million At Auction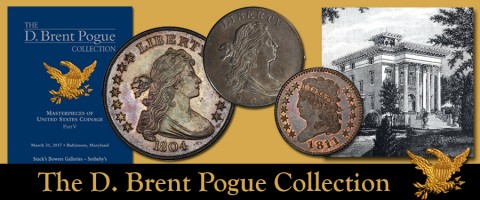 The fifth and final installment of the D. Brent Pogue Collection auction series recently wrapped up in Baltimore, Maryland, and the sales totals from the sale broke all-time records. The coin collection, built over the course of some four decades by billionaire D. Brent Pogue and his father, Texas real estate developer A. Mack Pogue, encompassed some of the highest-quality rare coins ever known.
Among the 232 coins on sale during the March 31, 2017 auction was a variety of pieces spanning from the late 18th century into the 19th century. The entire collection once included such gems as the only privately held 1822 $5 gold half eagle, two specimens of the 1804 Draped Bust dollar, a supergrade 1795 $10 gold eagle, the only known uncirculated 1799 large cent, and many other exceedingly rare treasures.
The Pogue coin collection auction series began in 2015 and continued over the course of five grandiose events held primarily at Sotheby's headquarters in New York City. The last event took place at the Evergreen Museum & Library, a former Baltimore mansion that was once the home of T. Harrison Garrett, a famous coin collector whose son bestowed the famous family coin collection – and the family house – to nearby John Hopkins University.
The Pogue coin collection was famous for including mainly coins that represent the very highest quality of their kind available. For example, virtually every coin in the collection was the highest graded specimen of its respective issue, tied for the best grade, or was very nearly the best of its kind known.
While many famous collections include the best coins around, the Pogue collection stood out because the superior grade of the coins was as much a highlight as the rarity of the coin itself. It's therefore no surprise that the sale of these premium-quality rare coins drew bidders from all over the United States and even from around the world.
Several Pogue coins sold for more than $1 million, including:
1795 Draped Bust Dollar Specimen-66 $1,057,500

1795 Capped Bust Right Eagle MS-63+ $1,057,500

1798 Capped Bust Right Half Eagle AU 55 $1,175,000

1833 Capped Head Left Proof-67 $1,351,250

1796 Draped Bust quarter in MS-66 for $1,527,500

1797 Draped Bust half dollar MS-66 for $1,527,500

1808 Capped Bust Left $2.50 MS-65 $2,350,000

1795 Capped Bust Right Eagle MS-66+ $2,585,000

1794 Flowing Hair dollar MS-66+ $4,993,750

Also receiving interest in the fourth sale, held in May 2016, was the Class I King of Muscat 1804 Draped Bust Dollar grading Proof-68, which inspired a monumental $10,575,000 bid. Meanwhile, the only privately held 1822 Capped Head Left $5 half eagle received an outstanding bid of $7,285,000 during that same sale. Bidding on neither coin reached the untold reserve and thus neither rarity was sold.
In all, there were 681 coins in the Pogue collection with a total face value of $969.14. The entire collection took $106.7 million, becoming the most expensive coin collection ever sold.
About the author
Joshua McMorrow-Hernandez is a freelance writer and author who has contributed hundreds of online articles and blog posts, as well as published Images of America, Tampa's Carrollwood (Arcadia Publishing, 2013). Joshua is interested in a wide array of topics, and since 1992 has been heavily involved in numismatics, a topic about which he loves to research and write. His main area of focus is 19th and 20th century United States coins, but he also enjoys Canadian coins.