Design Unveiled for World War I Commemorative Silver Dollar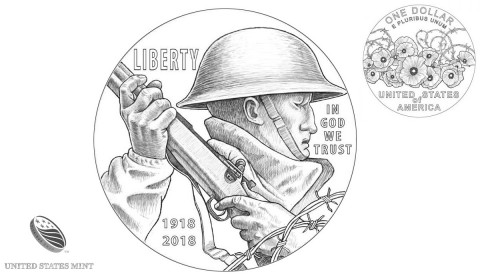 The long-awaited World War I commemorative silver dollar is finally emerging onto the scene after more than two years of widespread anticipation. While the last American World War I military veteran, Frank Buckles, died in 2011, there are many children, grandchildren, and other descendants of American World War I veterans, not to mention military history buffs and coin collectors who have awaited for the arrival of this silver dollar since it was announced by the United States Mint in 2016.
Of the 4 million American men and women who served in World War I, 2 million served overseas, and more than 100,000 died in combat, while 200,000 were wounded. 100 years on, all Americans who served in "The Great War" are honored on the World War I silver dollar. Its design was chosen in a public contest, and the winner was LeRoy Transfield of Orem, Utah. Transfield's depiction of a stone-like solder holding a rifle anchors the coin's obverse, while the reverse canvas carries poppy flowers growing in barbed wire. Both the obverse and reverse designs were sculpted by Don Everhart.
The commemorative silver dollar is authorized by the World War I American Veterans Centennial Commemorative Coin Act (Public Law 113-212), which permits the United States Mint to strike a maximum total of 350,000 pieces across all product and finish options. The law also provides a $10 surcharge from the sale of each silver dollar, with funds going to the United States Foundation for the Commemoration of World Wars. The foundation will use the funds to help the World War I Centennial Commission to honor the 100th anniversary of World War I, which lasted from 1914 through 1918.
While there are still many details about the coin the United States Mint has not released about the 2018 World War I silver dollar as of early November 2017 (including issue prices), the U.S. Mint website reveals a release date of January 17, 2018. Proof and uncirculated specimens of the World War I silver dollar are planned, and they will be struck at the Philadelphia Mint.
Also of note are a few product options featuring two-piece sets that bundle a silver dollar with a silver medal that honors various branches of the military that were represented in World War I. These include the Coast Guard, Navy, Marine Corps, Army, and Air Service personnel, the latter of whom served during a period before the United States Air Force was officially founded in 1947. At this point, there is no information to suggest the availability of a potential six- or seven-piece set that includes all five medals and just one World War I silver dollar or two examples of the coin – one in proof, another uncirculated.
About the author
Joshua McMorrow-Hernandez is a freelance writer and author who has contributed hundreds of online articles and blog posts, as well as published Images of America, Tampa's Carrollwood (Arcadia Publishing, 2013). Joshua is interested in a wide array of topics, and since 1992 has been heavily involved in numismatics, a topic about which he loves to research and write. His main area of focus is 19th and 20th century United States coins, but he also enjoys Canadian coins.